ICBC Comprehensive coverage now includes free windshield repairs. (maximum of three damage areas repaired per claim when it's safe to do so)
We repair windshields when:
the damage is smaller than a loonie
the damage isn't in the driver's critical viewing area
the damage isn't a previously failed repair
the damage isn't over any sensor or camera system, and
the damage isn't over a heated windshield element.
NOTE:
Windshield damage that doesn't meet the repairable limits will need to be replaced.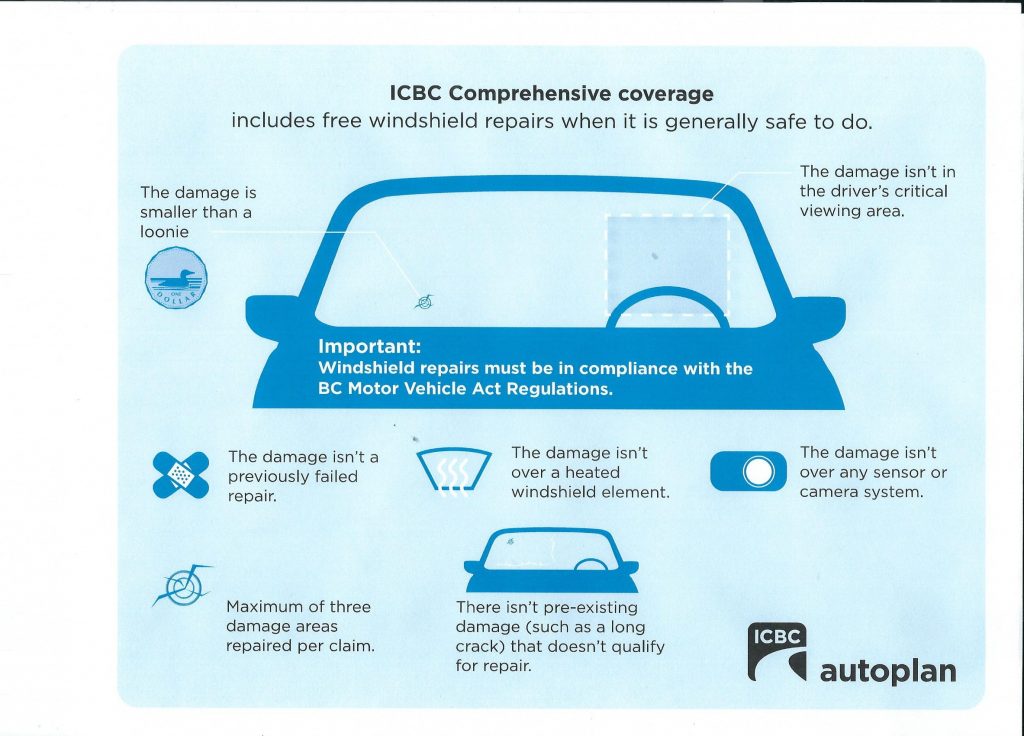 What is ICBC Glass Express?
The Glass Express Program allows ICBC customers to have their glass and windshield claims taken care of without any need to contact ICBC directly.
No appointment necessary, no need to contact ICBC.
If only one piece of glass is damaged (windshield, backglass or door glass) and you have ICBC Comprehensive Coverage, we can take care of your Glass Claim from start to finish.
What do I pay?
ICBC Glass Claims fall under your Comprehensive Coverage.  If you have a $300.00 comprehensive deductible you will pay $200.00 to replace your glass due to a rock chip.
If your glass is damaged due to vandalism, animal impact, or another large object falling on your windshield you pay your $300.00 deductible.  Any other deductible amount, $500.00 or $1000.00 will stand as is.
Contact us today at 604-485-7676 for all your glass replacement needs.