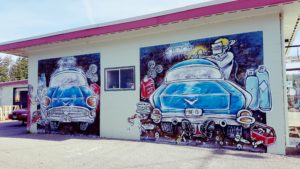 Welcome to Pinetree Autobody!
Pinetree Autobody began life in a Quonset hut on Pinetree Road, south of town, in 1982.  Back then it was a small operation with owner Neil McKenzie and one employee.  Today the business sits in an 8100 sq foot building on Franklin Avenue right in Downtown Powell River and has 9 employees.
Serving the community of Powell River for more than 35 years, we've built our business on values of respect, integrity, and good old-fashioned customer service.
From ICBC collision claims to auto glass and painting, our team has the expertise to get the job done right. Visit us and you'll discover why we're one of only 25 autobody shops out of 1,500 in BC to win ICBC's exclusive Award for Outstanding Customer Achievement.