Roeloph Clemens, our 3rd year Automotive Collision Repair Apprentice was invited to show off his skills and compete at the 23rd Annual SkillsBC Provincial Competition held April 13, 2016 in Abbotsford. We've very proud of him and happy to say that he excelled in his group and brought home GOLD!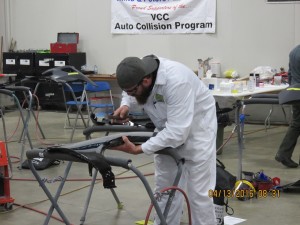 Robert Scholtens, 4th year autobody apprentice, won SILVER at the 16th Canadian Skills Competition held in Waterloo in, Ontario back in 2010.  Over the two day competition Robert worked on a rocker panel section, door skin and plastic repair.  Robert gives credit to  Neil McKenzie at Pinetree Autobody and Duffy Carto, his journeyman mentor, for his success.
In 2010 Robert Scholtens also attended the 16th Annual BC Skills Competition and received GOLD in Automotive Collision Repair.